Waiheke wedding photographers and videographers
If you are wanting the best company for your Waiheke wedding photographer, look no further. If you are wanting great value for money, then choose us for your wedding! We are Waiheke Island's best value for money wedding photography and video company. Covering the whole island with amazing local knowledge of many of the best venues and vineyards. Our team are very creative and go to huge efforts to make your wedding photos and video great. It's in the planning and having the experience to make the best of the opportunities and time available on the day.
There isn't a venue in Waiheke we haven't shot at. Having lived, worked and holidayed in Waiheke, we know all the very best photo spots. All of this adds up to making a point of difference to your wedding highlights.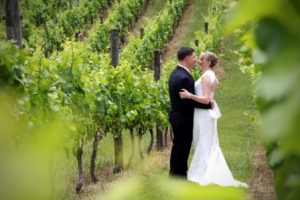 Waiheke wedding photography
Our Waiheke wedding photographer team are trained professionals and we care about your finished product. We want you to love your wedding album and highlights video. That's why we like to work with you prior to the day to ensure we get the photos you have always dreamed about. Nuance want your photos to be the best they can be and we want you to have as much fun as possible.
This is a once in a lifetime event that will be remembered by you both, family and friends – so lets do it well. It will come down to great planning and attention to detail. On the day there will be things that are out of anyone's control. You need to have a professional that can work in any condition, wind, rain, sun and heat. We have seen it all and we can handle any situation Waiheke weather throws at us.
Waiheke wedding video
Waiheke Island has a lovely climate with less rain and more sun than Auckland making Waiheke perfect for weddings. If a beach weddings is your thing, Waiheke boasts a huge number of safe beaches to choose and a world class selection of vineyards all well set up for wedding ceremonies and receptions.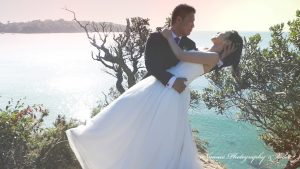 Waiheke Island wedding packages and 9 reasons to choose us
As part of our Waiheke wedding photography and videography service we have complete packages, from preparation right through to the fist dance with albums, highlight videos and more.
If you are getting married on Waiheke Island and want to find out more detail about us, request an information pack now. We would love to hear from you and make your wedding photography dreams come true.
Waiheke wedding venues and top tips on booking the best venue for your budget
Here is a small selection of venues we have photographed at that we are happy to recommend to our clients.
Cable Bay Vineyard, Casita Miro, Delamore Lodge, Heartsong Retreat, Oneroa Bay Vineyard, Passage Rock Vineyard, Poderi Crisci Vineyard, Puriri Valley, Stoneyridge Vineyard, Te Toki Restarant, The Goldie Room, Mudbrick Restaurant and Vineyard and The Oyster Inn. For more information on marriage celebrants, hair and makeup artists, florists and more contact us now. We are always happy to help.
For more information on booking Waihekes' most creative wedding photography and videography company contact us now.