Professional videography
Rotorua wedding videographer specializing in simple, fun and timeless wedding videography – our innovative team are here to make your wedding day memories unforgettable. Clients of ours can expect their day to be creatively captured and turned into a cinematic highlights video. When the day is all over, you will be able to watch your video and share with friends and family.
Rotorua wedding videographer
When photography isn't enough, book wedding video too. Videography shows your day in it's full entirety. From the grooms unforgettable reaction upon seeing his bride for the first time. The speech that no one will believe was delivered to the reaction on Grandma's face at the first kiss – nothing will get missed. If friends or family cannot be at your wedding, your wedding video will be able to show them just how great it was. All of the small nuances of the day will be put in real time for generations to enjoy many years to come.
Wedding videography and photography packages designed to capture both mediums and save you money
Being at the forefront of wedding videos in New Zealand, we are fortunate enough to be able to offer our clients high resolution video including drone.
Our clients receive amazing cinematic creativity and the option to select frames for photos from this footage. This allows us to chose the very best images from your video for your photography also. This is an optional extra, talk to us about still frame video.
Choosing a videography and photography company is so important as we work together to get the very best footage and still images from the day. We don't get in each others way and we are not posey. This is so important as you need movement and motion for video. Creating a fun and lively photo shoot for excellent video footage and natural fun photos is what we do!
See contact and prices for more details or email us on info@nuancephotography.co.nz
Fiji wedding photography and Videography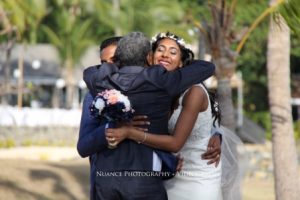 Alisha and Jared chose First Landing Resort to celebrate their wedding with a large group of family and friends in Fiji. We were honoured to be a part of their day.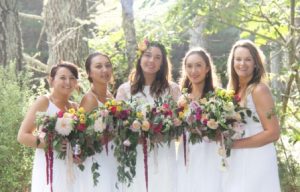 Cute little vintage wedding at Old Forest School for the very awesome Aileen and Ash who came all the way from Australia to wed at this lovely little country wedding venue.
An absolutely lovely little wedding on the top of Isobel Glacier in Wanaka New Zealand and a second shoot at Coromandel Peak for our amazing couple all the way from the USA.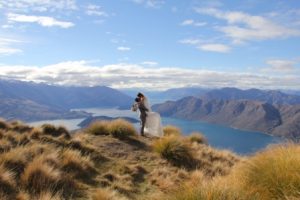 A very beautiful Lake Hawea wedding finished with a lovely helicopter flight to Mount Roy for Coromandel Peak.
Lake Tarawera, Rotorua wedding video highlights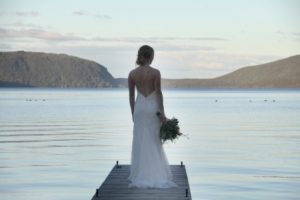 Opito Bay, Coromandel wedding video highlights
Taking place on a private venue in Opito Bay on the Coromandel Peninsula, we joined Aarti and George on their big day. With tonnes of nods to Aarti's Indian heritage throughout, it was a kiwi wedding with a twist!. All of the girls were dressed in the most exquisitely crafted and intricate sari's, which really set the tone for the day. Overall, a super stylish setting with so many well thought out finer details.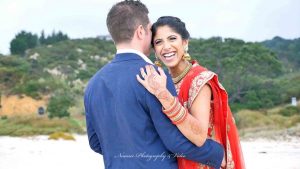 Tauranga wedding videography – Olive Tree cottage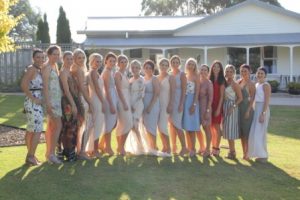 Stone Terrace wedding video Coromandel New Zealand
Corina and Marko married at the very lovely Stone Terrace wedding venue high on the hill overlooking Hot Water Beach. A very beautiful day indeed.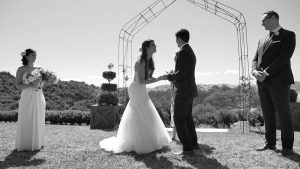 Hahei videographers Coromandel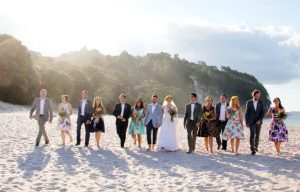 After a major storm these two amazing people married in Taupo New Zealand on a beautiful and still day. Featuring fun, smiles and laughter, maori carvings, the blue waters of the lake and even Mount Ruapehu in the distance, this wedding had it all.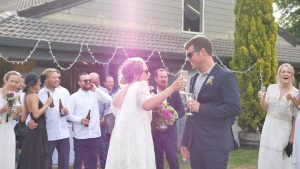 Papamoa videographers and photographers
A tropical storm saw Haley and Hussein's wedding ceremony inside at Bluebiyou and we took the time to reshoot their creative photo time a couple of days later when the weather was nothing less than amazing.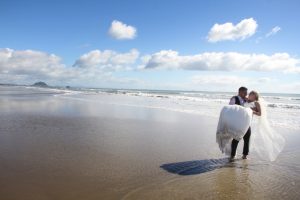 Maturangi wedding videographer on the Coromandel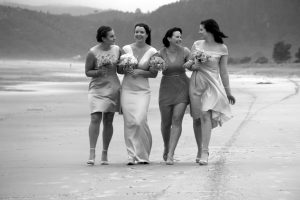 Mills Reef Tauranga wedding video
Anita and Matt travelled all the way from Australia to marry at Mills Reef Winery in Tauranga. What an awesome day, helicopters, limousines, loads of drinks and laughs and a very good looking bridal party all made for an easy shoot.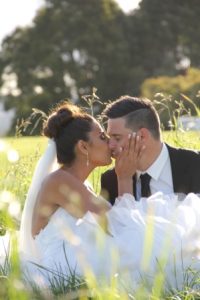 Whitianga wedding videographer
Nuance Photography & Videography present this little highlights feature film for the very cool Claire and Ben who were going to be married on Cooks Beach. However a classic Coromandel tropical storm made them play there wet weather option, Salt Restaurant in Whitianga. Still loads of fun with a great wedding party.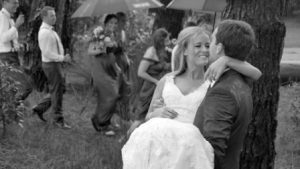 Ohope Beach wedding video highlights in Whakatane
Our travel mad couple Renae and Josh were married at Ohope beach in Whakatane. With a reception at the wedding venue Surf and Sand in the Bay of Plenty . A real couple of cool carrots these two were. We had such a wicked time shooting their wedding for them. The weather really turned itself on, with bright sunny skies to match Renae's bright, bubbly smile. We wish our adventurers all the best in their future travels, we know their will be so many more to come!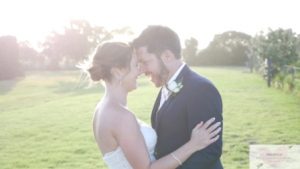 Waipu Cove wedding videography
Our young and vibrant couple Amanda and Matt married at Waipu Cove in Maungawai. A Northland day that was filled with tonnes of laughs and heart felt moments. This was a particularly special wedding day as they got to share it with their little son as well. It all really came together for a beautiful day – all the best to Amanda and Matt!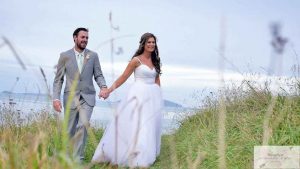 Stone Terrace wedding video and photography
Niquel and Sam married at Stone Terrace Hot Water Beach on a lovely summers day surrounded with loads of family and friends from Australia and New Zealand. A great couple at an amazing venue.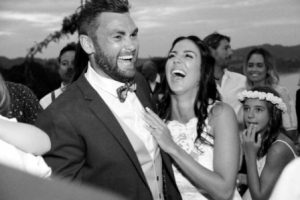 Coromandel wedding videographer
Nuance Photography & Videography present our latest Coromandel beach wedding in New Zealand. Coromandel wedding videographer. Special thanks to the lovely Aimee and Adam for being so relaxed and fun on their wedding day. A privilege.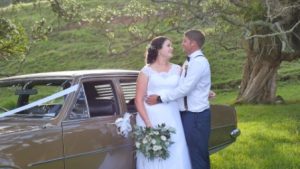 Olive Tree Cottage wedding video
Chloe and Ryan married on fantastic day at Olive Tree Cottage despite a little rain and had creative photos at a private estate just up the road. Such a nice group of people.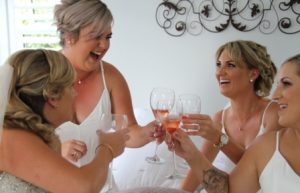 Laura and Chris travelled all the way from America to marry on Waiheke Island in Auckland. After a short visit to New Zealand while ago Chris fell in love with Waiheke and they both decided to chose to elope with a very quaint destination wedding in little ol' NZ.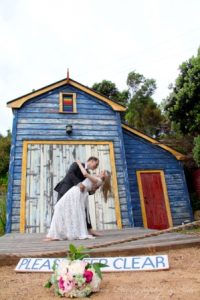 Queenstown wedding video – heli-wedding shoot at Cecil Peak
Queenstown pre wedding photo tours are very popular with our Chinese clients as they get to show off their beautiful photos and video to all their guests on their actual wedding day back home in Hong Kong. For Vera and Stephen this was exactly what they plan to do.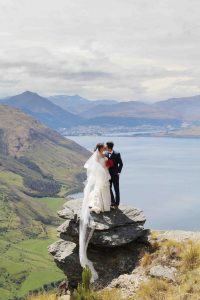 Lonely Bay eloping wedding video
Marilyn and Benjamin traveled all the way from Dubai to marry in an intimate ceremony at Lonely Bay. A small and mostly unknown beach in the Coromandel, this was a perfect spot. We were even lucky enough to fit in a drown the gown at The Lost Springs in Whitianga to finish off the shoot.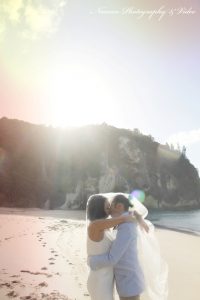 Rebecca and Matt were a little anxious about their wedding photos but they really turned out to be naturals in front of the camera! Our easy going and relaxed approach to photography and videography really helped to ease them into it. This also helped them to just be themselves and made the end product really authentic. They were married a little off the beaten track at their families batch in Port Charles. Followed by an elegant reception at Tangiaro Kiwi Retreat with family and friends. We are so pleased with your photos and video guys, beautiful!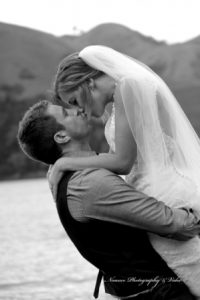 Coromandel same sex weddings in New Zealand
After all love is just love! Townsville same-sex couple Rischelle and Ange headed over to Lonely Bay, Coromandel for their wedding. It was a love filled, Batman themed, eloping wedding. We helped them plan their secret elopement in New Zealand before heading home to Australia to surprise friends and family. Unbeknownst to them wedding pictures and video of their day were to be shown at a special dinner.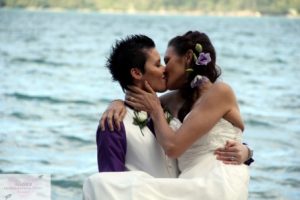 Coromandel wedding videography at Otama Beach
Whitianga wedding video and photography at Otama Beach and the Flight Club Ballroom was home for the day while we photographed this cool couple. Our very fun and relaxed Bride and Groom, Ash and Dom arranged for their wedding to be set on the idyllic shores of Otama Beach.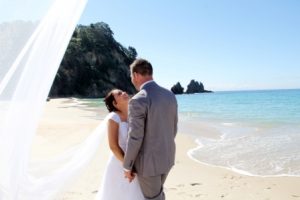 Nicole and Joseph married on the magical Whangamata Beach with classic cars and a fantastic guest list. The quint essential Whangamata beach wedding.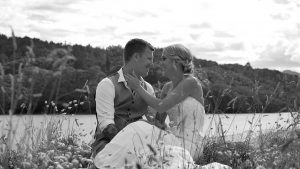 Matarangi wedding video on the Coromandel
Huge congratulations to Vanessa and Nathan who married at The Dunes on Matarangi beach. This wedding was loads of fun with a great big bridal party, a song from the bride, golf cart races and one of the hottest days of the year. Matarangi is a great destination for a beach wedding and an excellent area for photos and video. The expansive beach always has somewhere private for a cute and private ceremony.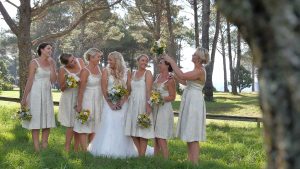 Booking your photography and video requirements with us is easy
We would love to shoot your wedding! Send our team through an email at info@nuancephotography.co.nz.
To view more wedding videos from around New Zealand check out our wedding galleries for recent weddings or our archives of past weddings.