Queenstown wedding photography and videography packages
Choose Nuance for your Queenstown wedding photography and videography! Our capable team also offers full comprehensive Queenstown wedding packages. This will see you sorted for your entire wedding day, with no hassles. Queenstown is one of the most popular places to get married in the world due to the breathtaking scenery. From the marvels of Lake Wakatipu to the stunning Remarkables mountain range, Queenstown has it all.
From a photography perspective it has everything you need for amazing photos. Rolling hills and rivers, snow capped mountains, world class wineries and crystal clear alpine days help create a magical backdrop for photo and video.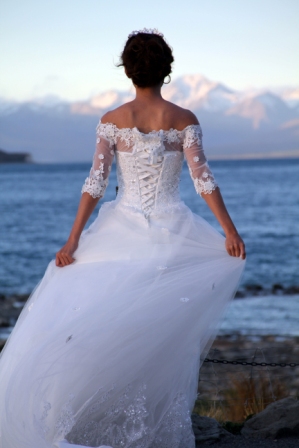 Queenstown is a year round venue for weddings, no matter what time of the year you choose, each season is perfect. The summer has warm and sunny days, autumn is mild and boasts an abundance of golden colour from the fallen leaves. Winter brings snow and golden browns and the mountains come to life as the snow settles high on the alps.
When you choose Nuance Photography and Videography you are dealing with a legitimate wedding photography company. We shoot many weddings in Queenstown and offer local advice on the best venues, best photo and video opportunities as well as the best times lines for the various Queenstown seasons.
We also specialize in weddings, not sports photography, landscapes, babies or family portraits. Choosing a wedding specialist has many benefits to your wedding day as we can offer you so many things that the 'home handy man' can't. Fast turn around of your photos, Queensberry Albums, quality prints and enlargements, on-line web gallery is just a start.
With such magnificent scenery in Queenstown you need a great photographer to ensure you capture all the nuances.
Queenstown wedding photography
We use professional photography and videography equipment and have a range of back up equipment at our disposal should we need it. On top of this we have many years experience to ensure we can capture your day professionally and with amazing results in any conditions and any venue.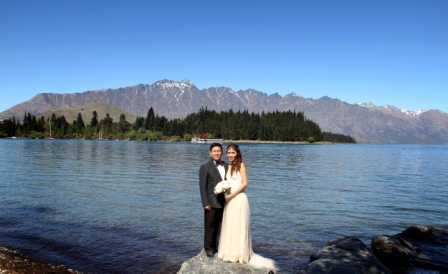 Queenstown wedding videographer
Offering world class wedding venues in a quaint and compact alpine village; Queenstown boasts top quality wedding locations. Including; mountain peeks, garden weddings and classic indoor options. Our fully comprehensive Queenstown wedding packages will see you through from start to finish, we provide it all!
Our Queenstown wedding photography and video packages are some of the most comprehensive packages and include all your copyrights. That's right, you don't have to get our permission to use your photos in any way you choose like you do with most 'professional' photographers.
Nuance in Queenstown have 9 packages that cover from your small intimate budget conscious wedding to fully comprehensive day coverage. We have a 'full day wedding package' which covers preparation, ceremony, family photos, creative photos, speeches, dinner, dancing and all your reception details.
The most creative photographers in Queenstown?
Choose right, choose Nuance Photography and Videography Limited. When you engage Nuance to capture amazing photos for your wedding in Queenstown you should expect a professional service and this is exactly what you will get. From preparation right through until reception we work hard for you.
For more information on how you can book us for your Queenstown wedding please email at info@nuancephotography.co.nz.
Wanting a great Queenstown wedding planner?
We can plan your whole wedding. We have the contacts and knowledge to plan each and every part of your wedding day. Not only that, we can pre book all your activities too so any adventures you may like to get up to when you are in Queenstown we can book these in advance for your convenience. Learn more.
Do you need advice on Queenstown wedding venues?
We have photographed at the following venues in Queenstown and are happy to offer unbiased advice. We are happy to chat!
The Skyline, The Winehouse, Gibbston Valley Winery, Mount Soho Winery Events, Millbrook Resort, Cavils Wedding Venue, Heritage Queenstown, Heli-weddings, Canyons Lodge.