Bora Bora wedding photographer and videographer
We are the best Bora Bora wedding photographer – Eloping from the USA came our couple Andi and Ron. A diving mad couple they often traveled across the world to the best diving spots, so naturally a drown the gown was on the cards for their big day! Blue skies, turquoise seas and a very warm day, French Polynesia was showing off again. We took full advantage of the amazingly warm weather and water and had our couple take to the water for a drown the gown. Keen divers, they brought with them their underwater camera. We got some stunning underwater shots of them, which has to be one of our favourite shoots we have done on the islands so far!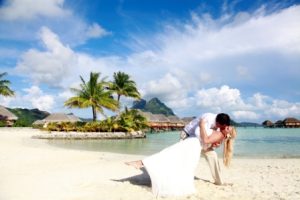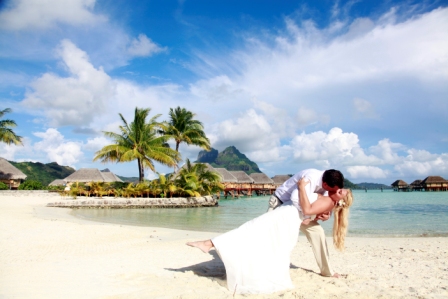 Bora Bora videographer
We pride ourselves on comprehensive wedding packages in French Polynesia and best of all all our packages include all your copyrights. You don't have to get our permission to use your own photos which is unheard of in the USA. You can use your images in any way you choose unlike most professional photographers. Our team in Tahiti have packages that photograph and video intimate, budget conscious weddings to a full day coverage. We have a complete packages which covers preparation, ceremony, creative photos, speeches, dinner, dancing and reception details. If you are eloping, we have a special package just for intimate Tahiti weddings.
We have photographed so many weddings in Tahiti we lose count. However we don't forget the amazing bride and grooms we work with.
Bora Bora photography and video packages?
If so, talk to us first. No language barriers and all the unbiased advice you can take in. Cocktails, blue skies, warm waters, turtles! Enough said. Get in touch with us today to check on our availability for your wedding day. We absolutely love shooting in the islands and are always up for another Tahiti weather! Email us at info@nuancephotography.co.nz