Whitianga weddings
Hayley and Mark planned their wedding celebrations with the idea of sun, fun, boats and photos at the beach including a sand ceremony. When a large storm came through recently all that planning went out the door. We still had a blast and enjoyed the day with heaps of fun. It was a challenge in the rain and wind but we love a challenge. We used the estuary and even commandeered a dingy in the process of making the best of the only sheltered area we could find. Awesome couple and we were so pleased to be apart of their wedding day! Special thanks to Amy from the Flight Club Ballroom who last minute arranged an indoor ceremony.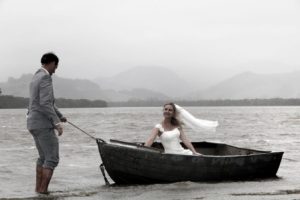 Photography and videographers in the Coromandel
Are you looking for a great local photographers in the Coromandel? Someone that knows all the best places and venues? Well look no further. With local knowledge and many years of experience shooting weddings in the Whitianga and across the Coromandel we are the best choice for your wedding day. If you want comprehensive wedding video we are the best. With new, professional equipment and an eye for creativity we can add value to your photography and videography requirements.