Coromandel wedding
Coromandel wedding photographer and videographer, Nuance Photography specialises in beach weddings. There isn't a beach in the Coromandel we haven't photographed a wedding at. Local knowledge is key. With a myriad of beautiful white sandy beaches and clad with Pohutakawa trees, the scope for amazing and creative photos is abundant.
Kylie and Matt chose Lonely Bay to exchange vows on a beautiful spring day. The sun was shining and the gentle waves framed the perfect back drop for this Australian couple to marry. We were privileged to be a part of the special day.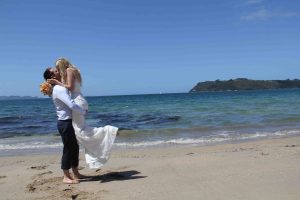 Coromandel wedding photographer
With local knowledge and years of experience you can trust in Nuance Photography and Videography to offer the most relaxed, fun and picturesque wedding photos. See below for a small sample of wedding photo ideas.
Coromandel videographer
From the shores of Cathedral Cove to the majestic surf beach of Whangamata, from the inland waterfalls on the 309 Rd to Lonely Bay the Coromandel really does have it all when it comes to laid back beach and nature weddings. Reach out to us and we will be more than happy to offer you some excellent advice on photography location ideas.
Book Nuance Photography and Videography and save money
Enquire with us and save on your photo and video wedding bookings. Because we offer both services and work closely together you won't miss a magical moment of your wedding day. When you choose photo and video packages you receive a fully comprehensive wedding imagery package and you also save money. Hoe do you save money? Enquire now to find out. Discounted packages including drone, full wedding ceremony and speeches all for a reduced price plus the benefits of no copyright issues.