Wedding videography Whangamata
Videographer Whangamata, Nuance Photography and Videography present their latest little wedding in the Coromandel for the very fun Nicole and Jo. When you are choosing a videographer for your wedding in Whangamata you want someone relaxed and experienced in capturing fun and non posed footage. This very sweet couple who travelled all the from Oz to get married on the white sands of Whangamata Beach wanted the quint essential beach wedding and thats what the received. We were lucky enough to capture both photo and video meaning we could control the shoot and ensure we get lots of flowing movement essential for good video. They also received a discount for booking both.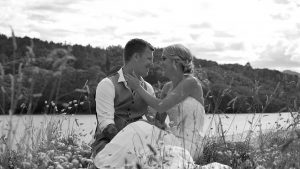 Videographer Whangamata with discounts for photo and video
Talk to us for excellent suppliers in Whanagamata. We know the best celebrant, florists, caterers and make-up professionals and are hoot to recommend good people for you. To ensure the perfect day you need the best vendors available. We work closely with many tied snd trusted vendors that are well proven time and time again. Talk to us now and see how choosing Nuance Photography and Videography will benefit your day.
We know Whangamata like the back of our hand. We know all the best locations for photos and where is best for photography at what time of the day. Sunsets and tides make such a difference when you get it right and factoring them into your time line is making the most of your wedding photo time. Wet weather options are all good to consider, we can help you with ideas as the Coromandel weather can be a little changable.
Whangamata Mustang wedding car for hire
Talk to us now to hire this amazing 1966 Mustang Convertible in signal flare red for your wedding day. A truly beautiful example and makes for great photos. Email us oninfo@nuancephotography.co.nzfor more details.