Waiheke Island wedding videography & photography
Waiheke video specialists Nuance Photography had the privilege of planning this very lovely couples wedding. They traveled all the way from America to elope on Waiheke Island. After a short holiday around the North island they chose Waiheke to exchange vows and legally marry. We used a very random spot Laura had seen a photo of and wanted for her ceremony location. With some local knowledge and help from Facebook we located the site on an old Pohutakawa tree on the north side of the island. This spot was perfect for the two of them and while we managed to secure a good footing for photos the ceremony took place. Thanks to the wonderful Tony Sears celebrant and Mudbrick restaurant and vineyard for perfecting the day. Hope you had a fantastic wedding Laura and Chris.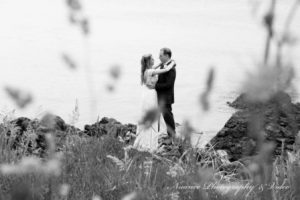 Waiheke videographer
In this situation we had to locate a random tree on Waiheke Island. Not easy when there are thousands of Pohutakawa trees to choose from. The Pohutakawa is the New Zealand version of our Christmas Tree. Its blooms beautiful red flowers over the summer period. A quick Facebook post and the locals helped us find this amazing spot. While not a fantastic location for a large wedding, this area is great for a little elopement and excellent photo opportunities.
Waiheke photographer and photo locations?
Getting married in New Zealand is very easy compared to other countries. We offer same sex couples the same options any other couple wanting to wed in in this very picturesque little country. We can arrange everything from your marriage licence to button holes, celebrant to helicopter. We also plan weddings in the most inexpensive way and couples can upgrade and add on any activity to a package if they want to splash out in certain areas. Saying that, we use only the best suppliers and vendors that have been well proven, tried and tested. Waiheke Island packages include NZ registered celebrant, bouquet and button hole, dinner for two, transport, accommodation, photo and video and hair and make up… a bargain!