Styled shoot at Olive Tree Cottage
Tauranga photography videographer Nuance Photography and Videography Ltd enjoyed a fun mid winter day at Olive Tree Cottage working with some of Tauranga, Papamoa and Mount Maunganui's best wedding vendors.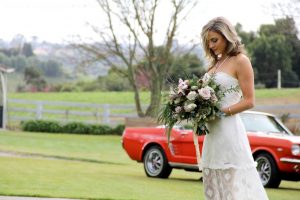 Tauranga photography videographer
After having spent a few weeks collaborating on ideas, it was great to see our joint visions come to life. Having decided on a whimsical forrest theme to the images, we couldn't have found a better place than down below at the onsite forrest of Olive Tree Cottage in Pyes Pa Tauranga.
Working with excellent wedding vendors
We met early on a sunny summers morning at Olive Tree Cottage and the hair and make up went to work, although our beautiful model Ashley hardly needed a thing! Loaded with 5 dresses we waited for the sun to shine through. After having a few rainy days beforehand, a few dark clouds had threatened to make their way through. We were so lucky to get bits of stunning light and sunshine appearing throughout the day which made for such a relaxing shoot for everyone!
An adventure to waterfalls and forests for photos
To begin our forrest shoot we took the 4wd drive down the track, after the rainy days we had previously it made for a bit of an adventure for all and our model was such a trooper. Once we got down there we were greeted by the untouched beauty of the forrest and we knew it was going to be a great day. Afterwards we headed off to McLarens Falls to encapsulate another layer to our imagery. The contrasting colours of the natural rocky scenery and the crisp white of the dresses looked fantastic. Here we were able to bring out the drone and really make use of the surrounds in our video and photos. And because we had this wicked weather, we couldn't pass up the opportunity to head down to the beach. Settling on a secluded area down Papamoa Beach we couldn't resist heading in to the dunes and then finally without hesitation we had Ashley head into the water – although cold, she wasn't deterred!
Overall this was such a great day – and a big thank you to all our collaborating vendors for helping bring this day all together!
Gown and Altar
Where the Wild Things Grow NZ
Kex Specialty Kitchen
NKD Make up
Olive Tree Cottage
Hair by Brittany
Nuance Photography and Videography – Tauranga photographer videographer