Huka Lodge weddings in Taupo
Videographer Taupo together with wedding photographers Nuance Photography present the natural beauty unique to Taupo though photo and video. Taupo boasts so many amazing photo opportunities for Brides and Grooms to take advantage of. With the natural surroundings of Taupo showcasing blue sparkling waters of the lake to the breath taking Huka Falls, it's no surprise Taupo is a excellent wedding destination. Iy also has some of the countries best wedding venues.
On a good day you can see the majestic mountains that feature south of Taupo. Getting photos with Mount Ruapehu and Tongariro in the back ground of your weddings photos adds a lovely alpine touch. The gardens in Taupo city also offer another dimension you can add to your album and their proximity to the lake from makes this a 'must have' photo location.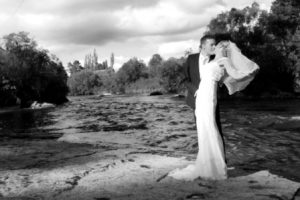 Videographer Taupo – photo session at Huka Lodge.
Ronelle and Mike celebrated their special day on the shores of Taupo with a photo shoot at Huka Falls, native bush and the lake front beach. Being keen mountain bikers we included a few photos of their baby too. Enjoy a little sneak peek below.
If you thinking of getting married in Taupo and need advice on good wedding vendors, the team at Nuance Photography and Videography are happy to recommend people. It's fabulous to see a wedding come together when you hire the best suppliers. Everything flows smoothly and you can see from the photos how relaxed the bride, groom and guests are when they are delighted in the service. It really does show through into the photos.
Having photographed almost 1000 weddings, we have seen it all. When a wedding is badly run it makes a massive impact on the overall feel of the day and this translates through to mediocre images and video. Choosing quality suppliers is essential to helping you chill out and enjoy your special wedding day.