Rotorua wedding video highlights Lake Okataina
Wedding videos Rotorua – our team were fortunate enough to join our couple, Sabrina and Matt, in a little known local spot. Set in the beautiful North Island of New Zealand, Lake Okataina is a hideaway like no other. With stunning views everywhere you look, the lake and its surrounds are simply picturesque. Having no cell phone reception, you can almost feel as though you have traveled back to another time period. We always find this lack of technology really brings a keen awareness and a sense of in depth emotion to the wedding party and their guests. Beautifully simplistic, and naturally stunning – how lucky are we to have this beautiful setting right on our doorstep?!
We joined Sabrina and Matt for both photo and video on the day – and what a day it was! Something only to be solidly described as a "cracker of a day." The sun shone bright throughout the entire day with little winds. A fine Rotorua day was enjoyed by all that attended Sabrina and Matts well thought out and put together wedding day. This all makes for perfect drone shooting conditions, which is exactly what we took full advantage of that day. The end result was a lovely little Rotorua highlights video for our very sweet couple.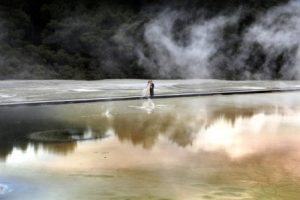 Wedding videos in Rotorua
For more information on how we can help create you a fantastic day full of awesome wedding photos and video contact us now. We are totally passionate about Rotorua weddings, we would love to help you out with yours! Whether you require photography, videography or a full planned day – we can help with it all! We have specialist packages that will see you from beginning to end of your big day. For more information, send us an email to info@nuancephotography.co.nz or give us a call on 021 411289.