Whitianga weddings in the Coromandel
Wedding videographer Coromandel – Nuance Photography and Videography are specialists in wedding video in all areas of the Coromandel including Whitianga, Hahei, Cathedral Cove, Pauanui, Tairua, Maturangi and Thames. Being 'locals' we know how to get the best out of you for your wedding photos and video.
Our team are local photographers and know the Coromandel like the back of our hand. We have photographed hundreds of weddings in the area and know all the best photo opportunities. We have also planned over a hundred eloping weddings and can offer you great advice on local wedding suppliers in the area. If you are serious abut getting married in the Coromandel we would love to hear from you.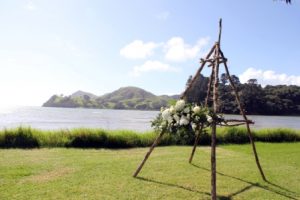 Wedding videographer Coromandel
We had an absolute blast with this amazing couple who traveled all the way from Germany to get married in the Coromandel. Mirjam had traveled over to explore New Zealand and had seen quite a few of our stunning locales. Having worked for a short time in Whitianga, the place had seeming stuck in her mind and she just knew she wanted to be wed here. Having found a celebrant already, she had Falke flew over especially to elope with his happy go lucky bride.
Together they chose us to join them on the day to shoot their wedding imagery. You could visibly see the happiness on Mirjam's face as she finally wed her fiance after having been separated for months due to her travels. After their intimate ceremony we used this delicious private beach to get some great footage. It's who you know, you know. Benefits of using a local videographer. Enjoy our little video teaser below for a taste of what we got up to on the day.
Our wedding videography packages are full comprehensive and designed to capture everything important on your wedding day. We professionally edit the footage into a creative video highlighting the beauty of the Coromandel and all the nuances that make up your special wedding.
Get in touch with us today, so we can join you on your big day! info@nuancephotography.co.nz