Wedding at Mount Ruapehu in New Zealand
Tongariro wedding videographer a photographers, Nuance Photography and videography present some highlight photos below of a very fun session for the lovely Kylie and Ian.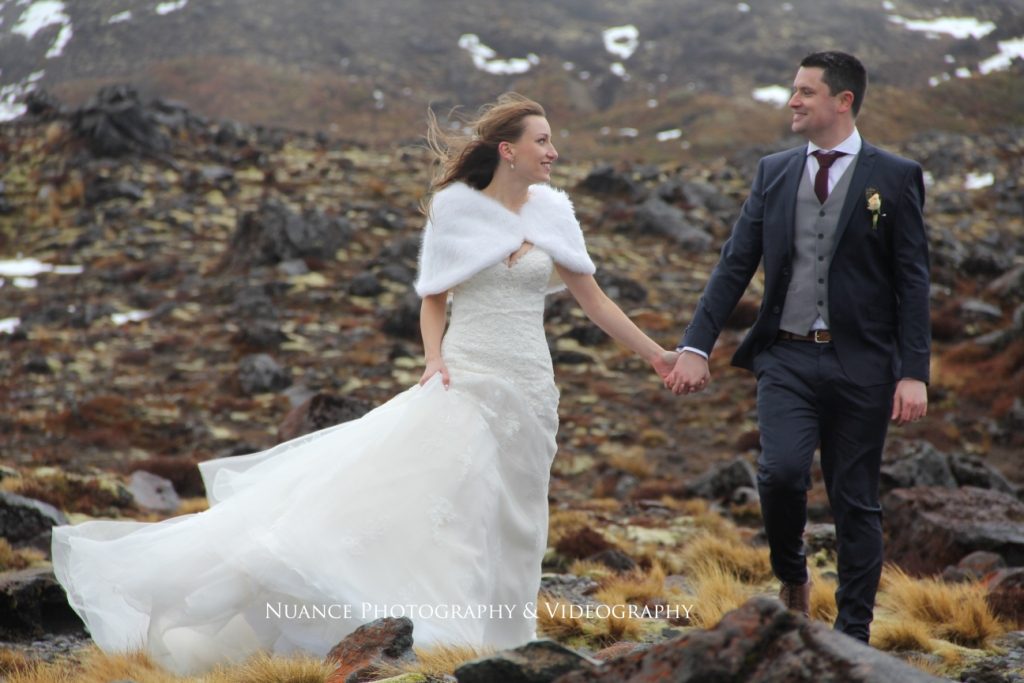 As a self confesed ski bunny it was Kylie's dream to marry amongst the snowy ranges and if possible get wedding photos in the snow. Well her wish came true, we didn't get the beautiful panoramic views of the mountains from Ngarahoe to Ruapehu but we did get snow. Kylie was so brave standing into the wind and snow for her photos. We shoot a lot of weddings and Kylie was our bravest so far. Just below the ski field at Whakapapa we commenced our creative shoot with 4 degrees on the car dash, we believe it as likely a -3 wind chill factor so supper chilled.
Our first look was a little warmer at the swing bridge in Turangi. Kylie looked amazing as she walked up to her groom who was facing away. A lot of cuddles proceeded as Ian saw his bride for the first time.
Kylie was a breath of fresh air and sunshine on a grey and drizzly day despite a few groans from guests viewing the ceremony at Tongariro Lodge in the rain. No matter the weather, Kylie wanted the ceremony outdoors, and it was so. A very cool and a very brave and bridal party who made barely a complaint in freezing conditions. We loved to being involved in this unique wedding.
Tongariro wedding videographer in New Zealand
We love diversity in our wedding photography. We shoot a lot of beach weddings, a lot of park settings and getting mid winter snow weddings is such a nice change. Being a local photography company we can offer the best advice on all the top spots for photos for your wedding in Taupo and Tongariro. If you are getting married talk to us first, we are happy to help with locations and the best times of he year to maximise your creative photo shoot.