Tauranga wedding photographers
Tauranga photographers and video in the Bay of Plenty were privileged to capture Larissa and David. This very cute couple who are totally in love and were more than ready to finally be husband and wife. We see a lot of romance in our business but this wedding really was a love filled day. Their wedding at Olive Tree Cottage in Tauranga had so many ideas and trinkets that really tied their wedding together to create a wonderful atmosphere for their guests. All thanks to Larissa's beautifully executed planning, she was definitely one of our most organised brides which made for a relaxed and seamless wedding day.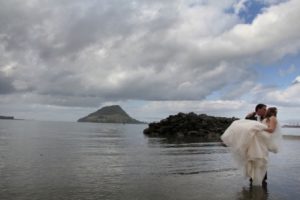 Tauranga videographers and photo prices
Tauranga photographers and video in the Bay of Plenty have the local knowledge to ensure you get the best wedding photos the area can provide. Nuance Photography and Video live locally and there isn't a venue we haven't already photographed. We can offer unbiased advice on where the best photo locations are and how they can fit into your wedding day time line. The area offers some fantastic opportunities that feature Mount Maunganui. Using the Tauranga toll road it's only a 8 minute drive from Olive Tree Cottage, and Ataahua Garden Venue to Sulphur Point. Sulphur Point offers the best view of Mount Maunganui and easy to get access. It's also very close to Mills Reef Winery and Charlemagne Lodge which are all slightly out of the Tauranga city. This goes to show no matter where you marry in Tauranga excellent wedding photo locations are easy to fit into your wedding day time lines.
Nuance Photography and Video for your Tauranga wedding
We would love to join you on your wedding and work with you to create amazing photos and video. Feel free to contact us for a no obligation quote. Our points of difference are huge and we would love to tell you how unique we are and how this can benefit your wedding.
Testimonials for wedding photography & video
Nuance Photography are the perfect team, we are so pleased to have chosen them for our wedding. They made us feel so relaxed amongst the hype of our big day and nothing was too much trouble. We couldn't recommend this team enough, they were amazing!!