Papamoa wedding videography
Papamoa videographer and photographers Nuance Photography and Videography present our latest wedding in the Bay of Plenty. Our lovely couple who travelled all the way from Abu Dhabi to get married on Papamoa Beach. Unfortunately a tropical storm out and end to that and the wet weather option card was played seeing the ceremony inside Bluebiyou which is a great little beach from venue on Papamoa Beach. Haley and Hussein were such a lovely couple to work with, so chilled and relaxed and so very in love. We had a great time despite the weather and rescheduled another photo shoot two days later when the weather was at it's absolute best! Great move as we were able to capture some lovely drone of the area for them to remember.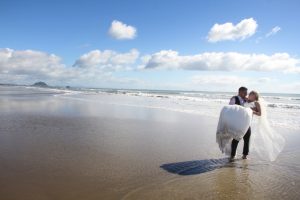 Papamoa videographer and photographer
Papamoa Beach which is an extension of Mount Maunganui Beach is one New Zealand's best beaches and it really does offer excellent photo opportunities of sand dune, perfect surf and of course the amazing Mount Maunganui.
In the summer the afternoon sun sets over the 'Mount' so with the right afternoon you can active some amazing sunset photos.
Why choose a videographer for your wedding?
It is not enough to have a wedding photographed, the future is video. Brides and Grooms have always asked for non posed photos, natural images that don't feel awkward. We increasingly get asked for authentic and real footage. The best way to get this is through video full of movement and interaction.
Capturing natural moments in a less scripted way is where videography is now. It hasn't changed much for us as we always photographed in a natural way so not much has changed in the way we shoot. The difference is Brides and Grooms are realising a fun and natural photographer is essential capture movement that flows into your video.
See below for a sample of photos from Papamoa