Wedding photographer Mount Maunganui
Wedding photographer Tauranga and video professionals – Tracey and Josh had a simply stunning wedding on the beautiful white sandy Mount Maunganui Beach. A fantastic day in the sun perfect for our relaxed couple. Loads of fun and laughs.
Mount Maunganui wedding videographer
When you chose Mount Maunganui for your wedding day you have plenty of options for amazing wedding photos. The obvious is Mauao, the majestic Mount Maunganui that stands proudly at the head of the Tauranga harbour. You can get excellent views of the Mount from any where along the main beach but Sulphur Point probably offers the most unobstructed views. There is also a lovely little grassy area and small beach you can use for bridal party photos.
The sand dunes along the beach flower over summer, with hundreds of little multi coloured plants that can feature nicely in your album. The beach does get busy in the summer months but we have always been able to find somewhere private along this vast stretch of coastline. When you chose a company like us that's experienced at shooting beach weddings, we have the ability to showcase your day without loads of people photo bombing behind you.
Choose a local company for photo and video
Tauranga is our base and where we call home. For this reason we know everything there is to know about the area. There isn't a venue we haven't photographed and we know all top Tauranga locations, plus a few more secret spots we like share for our clients shoots.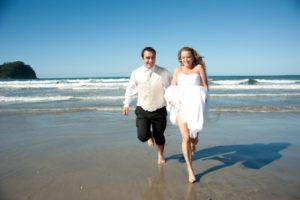 How you can book the best Mount Maunganui wedding photographers
It would be great to discuss your photo and video ideas for your wedding day. We can offer some excellent advice on time lines and recommend you proven suppliers. For a no obligation chat on your wedding you can contact us on info@nuancephotography.co.nz.