Wedding photography and videography at Matarangi
Matarangi photographer and videographer present our latest little (almost end of season) wedding at the Dunes Golf Resort at Matarangi in the Coromandel. Janna and Matt married on a dubiously rainy day that miraculously turned out fine when we needed it most. We photographed the fun and creative photos before the ceremony to allow more time with guests. This meant some fun with the golf carts and a trip to the beach to battle the squalls. Such and brave bunch as it was decidedly cold and rating on the day. We still managed to have loads of fun and got some dramatic and ominous photos down on the sand. Having the tide out meant we captured some beautiful reflections on the wet sand. We were experiencing borderline drone flying weather but managed to get some quite good footage considering the wind and rain.
Our ceremony had to be moved inside but shortly afterwards the rain stopped and we all headed outside for some family photos on the fairway. We finished up with some creative photos before heading in for the grand entrance and cake cutting. We wish you all the best Janna and Matt, it was a fantastic day and we were so happy to be able to share to with you.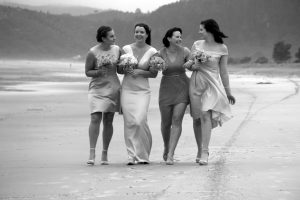 Matarangi photographer videographer
Choosing a local photographer that has lived in the Coromandel has many benefits for your wedding. Knowing the best locations in Matarangi and the surrounding areas for photos is essential to create a great album of the day.
Creative Coromandel wedding photos
Browse through some of Janna and Matts photos from their awesome day at The Dunes Golf Resort, Matarangi below in our wedding gallery highlights.
Matarangi videographer
Enjoy some highlights form the day at Matarangi beach and The Dunes. We capturted the best parts of the day from preparation through to reception including some beach and drone footage.