Kawau Island weddings
Kawau Island weddings are magical and dreamy. We enjoyed such an amazing day on Kawau Island with this amazing couple. Such a lot of preparation goes into an island wedding and its lovely to see when it all comes together. Our bride went to a lot of effort to get all her guests, us as photographers, her celebrant and more all over to enjoy what become a momentous day. Kawau Island weddings are like a wedding-moon on a South Pacific tropical island but without the travel and costs.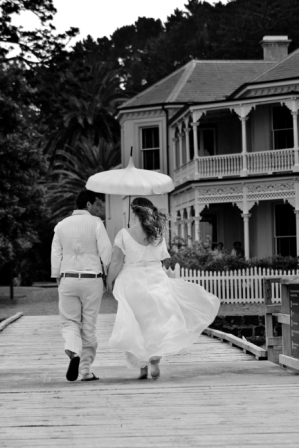 Kawau Island has an amazing history and is still relatively untouched. Few roads and only boats access means this islands is full of native trees, unspoiled bays and surrounded by sparkling blue waters on the Hauraki Gulf in Auckland. In the last hundred years Kawau Island was home to zebras, camels, wallabies and kookaburras. Mansion house is still standing proudly and makes for an excellent backdrop to frame your wedding photos. Coming from a background in boating, we simply love coming to Kawau Island. It really is just such a unique area to get married in and really brings an edge to your wedding imagery. Although Mansion house is a popular tourist destination – the estate is not a massive wedding factory. It means that having your wedding there will be an extraordinary for experience for not only you – but your guests as well!
Auckland wedding photographer and videographer for Kawau weddings
For more information on how to book the best Auckland photographers and videographers reach out to us here. We would love to shoot your Kawau Island wedding on any other area in Auckland that you choose to get married. We have packages to suit anyone and everyone. Whether you want our team there for only a few hours, or you want us there all day – we can do whatever works best for you and your wedding day. Get in touch with us via phone or email, our team are happy to chat whenever! info@nuancephotography.co.nz