Hahei videographer and photographer
Hahei videographers Coromandel preset their late wedding on the fabulous crisp white sands of Hahei beach. We couldn't have asked for a more fun couple with loads of laughs throughout the day. This amazing couple travelled all the way from Australia to marry in the beautiful Coromandel on one of the hottest days of the year, so hot the cake melted! Boomerangs, crazy poems, Top Gun serenade, too funny dads speeches and a very relaxed ceremony made for a fantastic day all round.
The western end of Hahei Beach has some great Pohutakawa tress and also a small park that over looks the beach. If you want a beach wedding but don't want sandy feet this little park is an excellent choose. Also its usually not used so you won't be bothered by the typical droves of beach goers. Its a very short walk from the main carpark and offers great views over the islands out in the bay.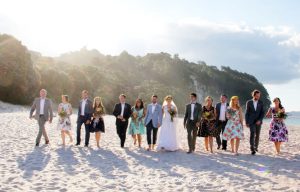 Hahei videographer in the Coromandel
To get the best out of your photos and video choose Nuance Photography, we have excellent packages with discounts when you choose both. Its also great to get both video and photo from the same company to ensure both gel together to get the best creative angles and not be in each others way.
When we shoot photo and video together you get complete coverage. If we do miss something with photography we can usually pull hi res frames from the video and edit into a fantastic still image. Hahei videographer Coromandel and Auckland offers a New Zealand wide service, this is particulary helpful with Chinese clients wanting multiple locations for thier pre wedding photo shoots.
Remember too to Hahei is the gate way to the beautiful Cathedral Cove which can produce fantastic photo opportunities.
Coromandel photographer and videographer
Choosing a local photography company offers you the very best in area knowledge but also the benefits of working with local operators suppliers like florists and celebrants etc so we can suggest for you excellent people to suit your personality and your wedding day.

Wedding photos Coromandel
Enjoy just a little sneak peek of this very magical day on the shores of Hahei Beach.