Weddings in Rarotonga and Aitutaki
Rarotonga photographers and videographers Nuance Photography and Videography present a lovely little wedding in the Cook Islands. Despite the occasional warm rain that threw us some very cool rainbow photos, we had a fantastic day join the shores of Muri Beach with a few photo opportunities around the main island of Rarotonga including the Black Rocks and Government House. We juts love the old buildings that are falling down and covered overgrown weeds. Sounds crazy but they photograph really well.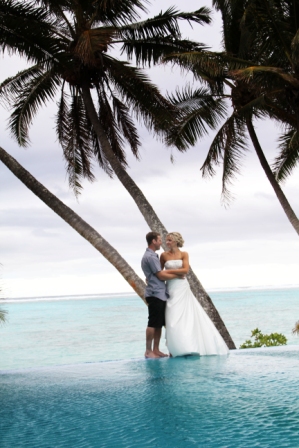 Rarotonga photographers and videographers
The good thing about getting married in Rarotonga is the stress free and relaxed options through your resort. Unfortunately not all resorts offer photographers that will work with you closely to achieve the photos you have alway dreamed about. Thats why you should consider booking Nuance Photography and Videography. Firstly we shoot both photo and video. And secondly we don't work with the resort, we work for you! We work closely with you and go over photo ideas before the day. Work with you on time lines so your photos will showcase your day. We also know all the best spots for the different tides and and sunset options.
Rarotonga wedding photo and video
If you are thinking of getting married in Rarotonga and want creative photos and video contact us for an information pack that will help with your Cook Island wedding planning.