Wedding venues in Tauranga
Easily one of Tauranga (and the wider Bay of Plenty's) most popular wedding venues, Mills Reef Winery has a real undefinable charm. Featuring an art deco styled main building, manicured gardens and lawns, the whole place is well designed for weddings. If you don't mind the small of fermenting grapes you can also use the clear for your ceremony 'wet weather' option and it transforms well for wedding receptions too.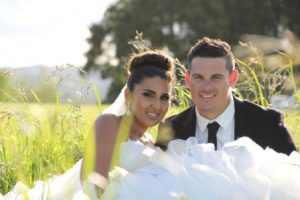 Mills Reef Winery wedding photographers and videographers
While the actual venue is limited in wedding photography options it does have some positive attributes. It close proximity to Mount Maunganui, the port, city and gardens means you don't have to travel far for great photo opportunities. Unfortunately Mills Reef doesn't have any grape vines which would are perfect for photos. There isn't any colourful gardens or water features either. Don't panic, there are some great locations you can use for photos that are close by.
We suggest the main mount beach, Sulphur Point, Tauranga Rose Gardens, the city railway bridge.
Wedding video highlights at Mills Reef
See below a little promotional video we have done so you can see what you can achieve at Mills Reef. We also have a link here so you can see an actual wedding. Hope this helps in your wedding planning.